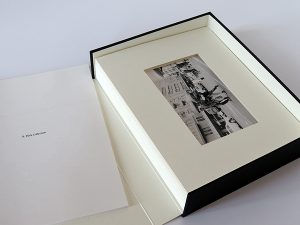 The R. Flick Collection is a sequel of the 1989 project Meisterwerke der Fotokunst. The series of twenty photographs draws on the ever-expanding pool of a popular photo hosting site and focuses on unknown works by award-winning photographers posted on that site.
Photographs by Robert Adams, Bernd und Hilla Becher, Richard Billingham, Sophie Calle, Rineke Dijkstra, William Eggleston, Joan Fontcuberta, Lee Friedlander, Anna Gaskell, Jim Goldberg, David Goldblatt, Nan Goldin, Paul Graham, Andreas Gursky, Cindy Sherman, Joel Sternfeld, John Stezaker, Hiroshi Sugimoto, Jürgen Teller, Jeff Wall.
Twenty matted pigment ink prints (20 x 25 cm each) and a brochure with background information. Archival box, 22 x 27 x 6 cm, edition of 5 copies + 2 AP, numbered and signed.