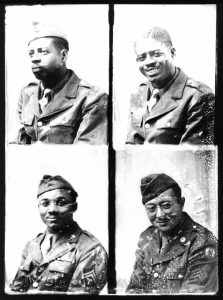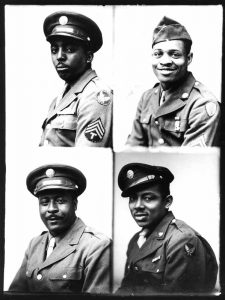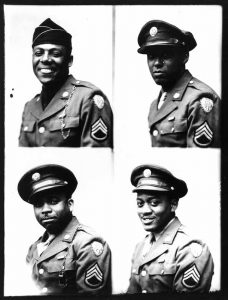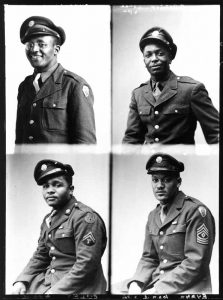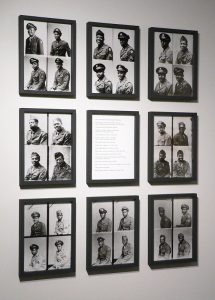 ^ Tang Museum, Saratoga Springs 2007
They came from the United States of America.
Evans, Garrett, Private in 9th Army Air Corps. Coley, Chapman and a Master Sgt., 23rd Apr. 1944
They gathered in the south of England.
Pattiford – Goodlet, Johnson – Hovington, 9th Army Air Corps, April 1944
They prepared for the day of decision.
Bradley – Bailey – Booth – Van Reed, 9th U.S. Army Air Corps, April 1944
They made no decisions themselves.
Basden. Mils. Liggans, U.S.A., May 1944
They imagined their lives after the battle.
Dulin. Slade. Johnson. Roebuck, U.S. Army, May 1944
They had their portraits taken before leaving.
Andrews, Pte. Powell, Sgt. Montgomery, Sgt. Montague, U.S. Air Force, May 1944
They left on the morning of June 6th.
Jones U.S.A., Nolan U.S.A., Scott U.S.A., Miles U.S.A., May 1944
Their portraits remained.
Bishop, Dailey, Bradley, Ferguson, U.S. Army, 1944
Decisive Portraits is derived from portraits taken by George Garland in April and May 1944 in Petworth, Sussex (see Very Miscellaneous).
Based on these portraits, Retratos decisivos was a temporary public art project, commissioned by and realized in collaboration with PhotoEspaña in Madrid in 2004.
Eight b/w photographs and a text panel, 38 x 28 cm each, edition of 2 copies
A catalogue is available in the series of white books.