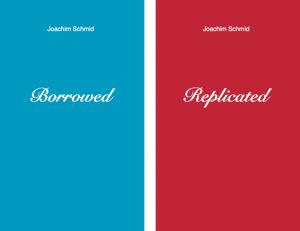 "I guess maybe I woke up in a cold sweat once and just had this light bulb go off of doing a book of some sort."
This is how Ed Ruscha, in a 2004 interview, recalled the events that led him to start creating books. The books he started making half a century ago were influential for generations of artists. To honour his contribution to the artist book, members of ABC Artists' Books Cooperative are launching ABCED in Autumn 2012. ABCED is a multi-volume book project created on the occasion of Ed Ruscha's 75th birthday, consisting of 33 books by 24 artists. The project will be launched simultaneously in multiple venues on both sides of the Atlantic in the final weeks of September:
Offprint Amsterdam, 20–23 September
The London Art Book Fair, 21–23 September
The New York Art Book Fair, 27–30 September.
My books Borrowed and Replicated are part of this project.
My new series Authentic Replica is based on a selection of images from these books.